The World's Premium Probiotic Drink
1. Dissolving Tank
The skim milk powder is dissolved in hot water of 50-55°C in the dissolving tank to make a milk solution.​
2. Culture Tank
From the dissolving tank, the milk solution is heat sterilised before it is transferred to a culture tank. It will then be cooled to 37°C. The culture starter, L. paracasei strain Shirota from the seed tank will be added into the tank. The solution is allowed to ferment until the number of L. paracasei strain Shirota reaches an ideal concentration and the solution will change into curd form known as culture base.
3. Storage Tank
After the fermentation, the milk becomes sour and therefore the sour milk is being transferred into the storage tank and syrup will be added in to counteract the sourness of the milk.
The capacity of the storage tank is 18,000 liters, which can make about 360,000 bottles of Yakult. The Yakult in this tank is kept at concentrated form and the tank will be chilled to the temperature of 5 degree Celcius.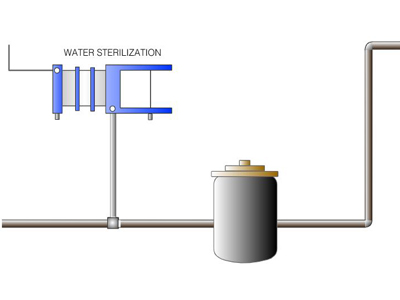 4. Mixing Tank
The concentrated Yakult will be transferred to a mixing tank and diluted with sterilised water. Natural flavours and permitted colouring will be added at this stage for flavoured Yakult and the diluted mixture will then be transferred to the filling tank.
5. Bottle Moulding Machine
The plastic bottles are produced by the moulding machine at the speed of 7000 bottles per hour. These bottles which are made of food-grade polystyrene are transported by a clean air blower through a duct to the bottle storage tank.
6. Selector Machine
Empty bottles are released from the bottle storage tank into a large circular selector which places the bottles in an upright position before being sent to the printing machine.
7. Printing Machine
The printing machine will print Yakult logo with the product information on the empty bottles using instant-dry red ink.
8. Filling, Capping & Sealing Machine
The printed bottles will be sent to the filling machine which has the capacity to fill 30,000 bottles with 100ml Yakult per hour. At this stage, the bottles are capped and sealed with an aluminium foil that has the use-by date printed.
9. Packaging Machine
The finished Yakult will be sorted in single bottles or in a pack of 5 bottles that is shrink-wrapped. The single bottles are packed into a crate of 100 bottles of the same flavour. As for the 5-bottle pack Yakult, it will either be wrapped into single flavour or mixed flavours. These 5-bottle pack Yakult will also be loaded into a crate. All crates containing the Yakult will be transported to the cold room by the conveyor belt.
10. Cold room
The finished products are stored at a temperature of 5°C to ensure they will always remain at the best condition whilst awaiting delivery for distribution.
11. Distribution
Yakult stored in the cold room will now be ready for delivery by refrigerated trucks for distribution to the following sources:
Direct Sales – which consists of supermarkets, retail and convenience stores, vending machines, schools and exports to Brunei
Home Delivery – a door-to-door delivery mostly in the public housing estates and supported by the Yakult lady agents