Topic:
The Fight Against Aging 
Synopsis:
The global population is raging and the proportion of elderly is increasing rapidly, Singapore's total population stands at 5,685,800, according to data released by Statistics Singapore in 2020. Residents aged 65 and above make up 15.2% of the population. 
As we get older, we all experience the process of aging, and our health will begin to decline. Since aging is a natural part of life, when should we begin to preserve our health? 
D0 you know which organs of the human body age first? What is intestinal aging? How does intestinal aging affect human health? How do we slow down intestinal and human aging? 
In this episode, Host Evelyn Tan will discuss with celebrity guest Constance Song and Dr. Wong Kae Thong topics related to health problems faced by the elderly, and share advice on how to delay physical aging.
Prof. Lee Yuan Kun will explain how probiotics can help promote intestinal health and fight aging. 
Our host and guest will learn how to prepare a nutritious and healthy breakfast from culinary instructor Adele Lau, and explore ways to fight aging through acupressure massage. In addition, they will be introducing a popular game among the elderly in Japan: Atodashi, scissor, paper, stone. Finally, they will speak to a dance instructor Sun Yi Ning and learn how to keep active and healthy through Jazz dance. 
Upcoming programme on Mediacorp Channel 8.
Narrated in Chinese with English subtitles
Catch-up on meWATCH!
Sponsored by Yakult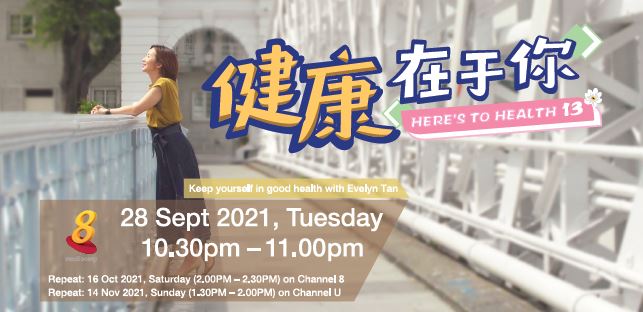 Premiere Telecast:
28 September 2021 | 10.30pm – 11.00pm | Channel 8
Repeat Telecast:
16 October 2021| 2.00pm – 2.30pm | Channel 8
14 November 2021 | 1.30pm – 2.00pm | Channel U